If you missed out on the ultra limited release of the LeBron 11 SE aka "Champ Pack" you'll get another chance on Saturday. Originally slated to be released as a third Championship Pack, the idea was scrapped when the Miami Heat lost to the San Antiono Spurs. Nike later released these intended kicks separately as a "Special Edition" versions.
The same was doing for the usual matching heat. The Hats were released as a "True Hunt" pack on nike.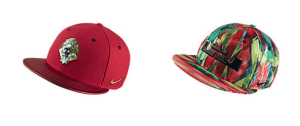 A very limited number of European retailers will be dropping the LeBron 11 Champ Pack on 8/30 including Nike EU. As the date approaches we will be posting links and release info to help you cop a pair.
[ad]

LeBron 11 Elite SE "Championship"
Nike EU
END

LeBron 11 Low SE "Championship"
Nike EU
END
Kickz