Nike is releasing a set of Kyrie 4 in cereal themes colorways in a very obvious General Mills native advertising plug. Don't get me wrong, I like General Mills as much as the next 90's kid. Also, they've been proactive with Gluten Free options, so hey… good on you General Mills. Wait… what was the point? Oh right… these disgusting shoes are just the epitome of making you pay to advertise for another company. Seriously, with the promo these kicks give General Mills they should have GIVEN THEM AWAY IN THE BOTTOM OF THE CEREAL BOX. Oh hell yes, that'd be sick!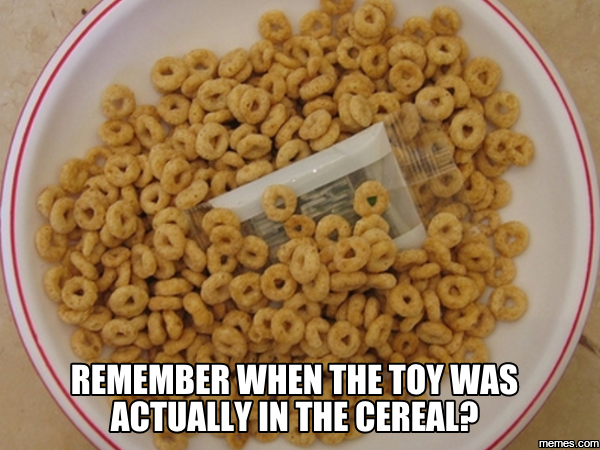 Remember when they put toys in boxes? That was awesome. I miss that. Now they make you shell out $120 to wear a giant cereal box on your feet. Now I know we've had "fruity pebbles" LeBron and Foamposites but those weren't branded. That's just what we all called them. This is blatant…
I'm not sure why I'm complaining because, the colorways are actually pretty sick. The Lucky Charms imprint on the side panel is on point. Whatever, I'm very conflicted because I want to love and hate these at the same time. Should have been a giveaway in a box of cereal, I'm sticking to that.  Like a little plastic pair of shoes in every box and one out of every 1,000 would have a code to redeem for a pair of kicks! C'mon you lazy marketing departments, wake up! Do I have to think of everything for you? So yeah, here's your links because these aren't dropping like, anywhere.

Kyrie 4 "Kix"
Style BV0425-700
Resale
StockX
10 AM Release
Foot Locker
Nike

Kyrie 4 "Cinnamon Toast Crunch"
Style BV0426-900
Resale
StockX
10 AM Release
Foot Locker
Nike

Kyrie 4 "Lucky Charms"
Style BV0428-600
Resale
StockX
10 AM Release
Foot Locker
Nike