Universal Studios has licensed the iconic Nike Air Mag for production. Altho they lack Nike's iconic swoosh, they are authorized replicas given that the design owned by the movie studio, not Nike. If you had been hoping to pick up a pair, this is your chance.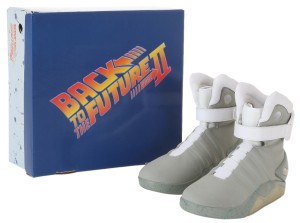 They will release at 7 PM Eastern on September 30th for $99. According to Halloween Costumes, the retailer distributing these kicks, only 500 pair available they will sell out quick..
The Back To The Future II Nike Mag Replica Early Link
[ad]
According to their site the Back To The Future Nike Air Mag is:
Officially Licensed
Recreates the style seen in Back to the Future II
Hi-Top style with textured sole for traction
Fits with an adjustable Velcro strap around ankle and elastic on top of shoe
Shoes light up just like in the movie!
Shoes charge up easily with included USB cable
Standard US sizes
Lights light up on one side of the shoe only (on the outside)
Battery life lasts up to 300 full cycles. Battery is not replaceable.
Average length of charge is half an hour (time to charge from empty to full battery) Average length of life after charge is four continuous hours.
Average life of LEDS is 80,000 hours.
So check the BTTF Air Mag link at 7 PM Eastern tonight if you've been waiting to get your hands on a pair of Nike Air Mags.